Nov 7, 2023
What do you do when a local theater is in danger of falling into disrepair? Put it in a book. Add some ghosts (okay, so they were already in local lore), split time a bit, and The Lost Boys of Barlowe Theater is born as only Jaime Jo Wright can birth a book. And right there, folks... I think I'll leave the metaphor before it becomes more tortured than it already is! Meanwhile, listen in as we chat about some missing boys, a missing friend, and the ant-farm-loving side-Kit who is determined to save the day!
Note: apologies for the audio quality on my track. No idea what happened there!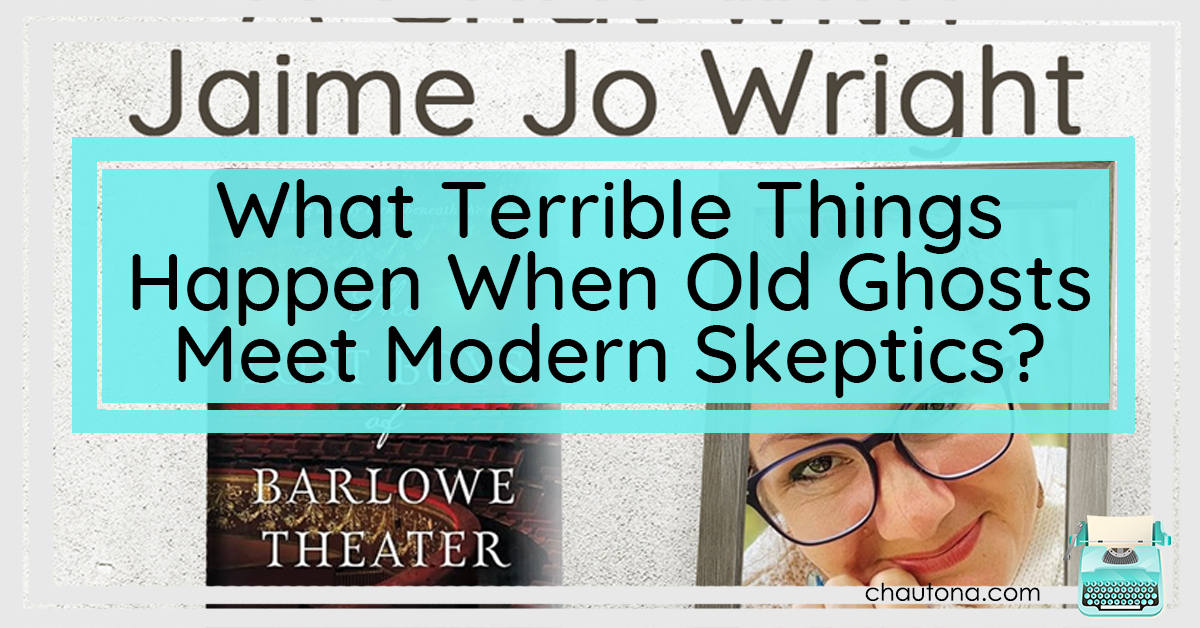 Note: links may be affiliate links that provide me with a small commission at no extra expense to you.
What Terrible Things Happen When Old Ghosts Meet Modern Skeptics?
Talking with Jaime Jo Wright is always a joy. She has this unique and enviable ability to zero in on truth and hold fast to it while also retaining her love for people and compassion for those who don't know and love Jesus. That (unfortunately) is a rare gift these days.
Jaime Jo shared some insights into her latest release, The Lost Boys of Barlowe Theater, including the lack of Peter Pan influence. (Thank you, Jaime!!!)
But with an opening scene that has a baby falling over a balcony and then the police not finding any baby or her mother, well... things aren't looking good. Actually, now that I think about it, there are three distinct "missing people" scenes in this book mentioned in this podcast alone. No wait! Four! Her next book... something about Predicament Avenue (on preorder HERE) has a crime with no body. So there's that! HA!
We also chatted about her panel at a conference this summer and how she answered a question about why she writes horror. For her, it's about hope! Finally, she gave us a few books she's reading, including one she discusses with the author on her podcast HERE.
It promises beauty but steals life instead. Will the ghosts of Barlowe Theater entomb them all?
Barlowe Theater stole the life of Greta Mercy's eldest brother during its construction. Now in 1915, the completed theater appears every bit as deadly. When Greta's younger brother goes missing after breaking into the building, Greta engages the assistance of a local police officer to help her unveil the already ghostly secrets of the theater. But when help comes from an unlikely source, Greta decides that to save her family she must uncover the evil that haunts the theater and put its threat to rest.
Decades later, Kit Boyd's best friend vanishes during a ghost walk at the Barlowe Theater, and old stories of mysterious disappearances and ghoulish happenings are revived. Then television ghost-hunting host and skeptic Evan Fisher joins Kit in the quest to identify the truth behind the theater's history. Kit reluctantly agrees to work with him in hopes of finding her missing friend. As the theater's curse unravels Kit's life, she is determined to put an end to the evil that has marked the theater and their hometown for the last century.
The Lost Boys of Barlowe Theater is still 30% off at BakerBookHouse.com
You can find out more about Jaime on her website and follow her at BookBub and GoodReads.